The Dixon Group
---
Research in the Dixon lab is centred on the development of new, broadly useful, synthetic methodologies and their application to the synthesis molecules of importance in nature, biology, medicine and material science. We design and deploy new multifunctional cooperative catalysts and catalytic systems to uncover new reactivity and our interests span curiosity driven to target driven research themes.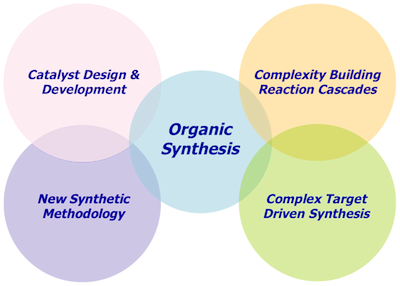 July 2018
Iridium Catalysis
Our work on
the application of iridium catalysis to enable Ugi-type transformations is out now.
Goodbye! This month we say goodbye to Langui. Langui's work focussed on the use of Vaska's catalyst to carry out broadly applicable transformations of amides, enabling the synthesis of teriary amines and, more recently, alpha-amino (thio)amides and alpha-amino tetrazoles. We wish him all the best of luck for the future!
Photocatalytic Povarov Reaction
Our work on
the photocatalytic reverse polarity Povarov reaction is out now in Chemical Science.

Bifunctional organocatalysts
Our work on
the use of bifunctional iminophosphoranes are organocatalysts for enantio- and diastereoselective Michael additions is out now in Tetrahedron.
Goodbye!
This month Graziano has finished his time with us, and is heading back to Italy to complete his PhD.
Congratulations! Moses has passed his DPhil viva and is the first SBM CDT student to do so, and is soon moving to New York. All the best!
Congratulations!
Congratulations to this year's part IIs Eve, Jack, and Nik, who have passed their vivas. All three are starting PhDs after the summer and we wish them the best of luck!
June 2018
New Faces
Welcome to Tanya, Daniel, and Cieran, who are joining us for their SBM rotations for the next four months, and to Jack who is joining us as a summer student.